Nursing care that impresses everyone– Creating a world full of joy beyond the framework of nursing care
2023.07.01
Co-Creation
We are pleased to welcome Mr. Yusuke Kannari, Chairman of the social welfare corporation Genkimura Group, which operates more than 100 nursing care facilities in Japan and overseas. As the population rapidly ages, nursing care is becoming more prevalent than ever. In this situation, we asked him about current issues facing the nursing industry and its future.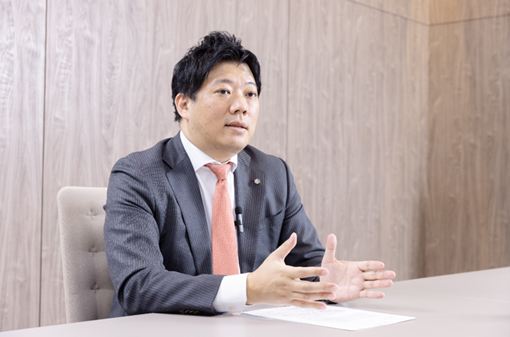 ―Profile
Yusuke Kannari
After becoming Director of the social welfare corporation Genkimura in 2005 and Chairman of the social welfare corporation Chojumura in June 2011, he assumed the office of Chairman of Genkimura, Chojunosato, Chojunomori and Morinomura. In addition, he currently operates multiple nursing care, medical and educational businesses.
---
– Japan is rapidly aging. With the working population declining, how are you addressing the shortage of human resources in the nursing care industry?
The nursing care industry continues to suffer from a chronic labor shortage. The Genkimura Group also faces the same issue. Since the labor shortage is not an issue that can be solved in a short period of time, I feel that it is necessary to shift from the view that the more people there are, the better the quality and to pursue the view of providing high-quality nursing care even with a small number of people.
– Please tell us what you are doing to provide high-quality nursing care with small groups.
I value the creation of an organization where employees can move forward with the same aspirations. The philosophy of the Genkimura Group is to realize a society in which all people live together happily with a smile, by expanding nursing care that impresses everyone from the local community to the global community under the mottos of "family-oriented nursing care" and "hands-on nursing care." The environment in which we were born and raised, what we have learned, and what we have seen and heard are different for each person. Moreover, a diverse range of staff work as caregivers in our Group. In this situation, the corporate philosophy serves as a core for everyone to move forward with the same aspirations. We have gathered together people who sympathize with the attitudes that we have valued since our founding, such as "family-oriented nursing care," "hands-on nursing care," "nursing care that impresses everyone," and "living together" and through on-site practice and training programs, we are working to unify these ideas in the operation of our nursing care business.
– What is necessary in the field of nursing care to realize a society where we can "live together."
I believe that it is important to change our way of thinking about independence support, which is one of the goals of nursing care. Independence support is an initiative to increase the range of what users can do by providing nursing support for what they cannot do themselves and to motivate them to do it themselves. As assistance with eating, bathing and toileting is just one of the functions of nursing care, I think that nursing care doesn't mean that caregivers should take care of all needs of users. I believe that one of the major goals of nursing care is to help users live a meaningful daily life.
– It seems that if users can do more themselves, this will increase staff morale.
The staff are more than happy to receive gratitude from users. However, what makes them even happier is when users can gradually do more and more for themselves in their daily lives through nursing support, and the staff are actually able to say thank you to them. If the staff express their gratitude and communicate with users to create more such opportunities, this will lead to true independence support.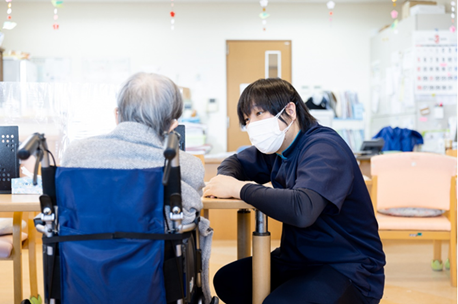 – How do you see the future potential of the nursing care business?
We aim to become a nursing care provider that enables all users and staff to feel happy. To this end, I would like to expand the possibilities of nursing care with free thinking beyond the framework of nursing care. Cooperation with the local community is one of the major roles of social welfare corporations.
– What kind of regional cooperation do you think is possible?
For instance, there is the idea of using nursing care facilities for the purpose of contributing to the local community.
If certain conditions are met, I think that it is quite possible to open the facility to the public as a place for community gatherings, such as festivals. Alternatively, we can consider further developing the children's cafeteria to make it a place where users and children can sit around the dining table across the generations. I hope that we can pave the way to changing the image of nursing care by working together with local residents to create fun plans.
– It seems that such initiatives will provide an opportunity for people to discover the attractiveness of nursing care work.
My greatest joy is the moment when I can feel the happy atmosphere flowing between users and staff at the facility. I would like to build a world of nursing care that is full of joy from the perspective of on-site personnel, in order to widely share the happiness of our users and the fulfillment of our staff. Nursing care work, which we are engaged in, is considered to be a tough job. However, I believe that there is no job that can make a greater contribution to people's lives and that the