Changing the future of nursing care business will give hope to Japan.
2023.07.01
Co-Creation
RIRE STAGE Co., Ltd. operates nursing care services and other businesses mainly in western Japan and has developed the employment support business "Aoni Kobo" for facility residents, working to offer people opportunities to "find a reason to live, something worth doing, and rewarding work." Mr. Hisao Nakayama, Representative Director, joined the nursing care industry after gaining experience in areas such as marketing and business planning at a major oil company and a foreign manufacturing company. We interviewed him about a new form of nursing care that takes on challenges based on co-creation to solve the issues of Japan's super-aging society.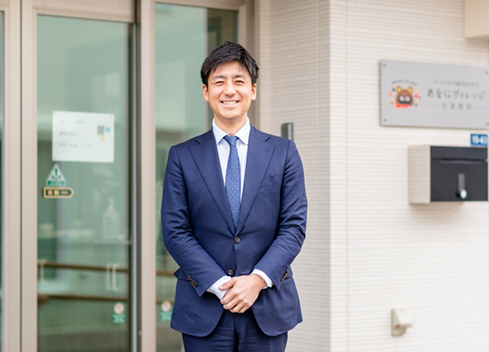 ーProfile
Hisao Nakayama
After graduating from Osaka University of Foreign Studies in 2001, Mr. Nakayama joined Idemitsu Kosan Co.,Ltd., a Japanese energy company. After engaging in domestic and overseas sales of chemicals, business planning, and overseas marketing, he experienced business planning in the global market at a foreign-affiliated company in the petrochemical industry. In 2016, he took over the nursing care company that his father ran jointly with a friend. In 2019, he became the representative director and established Aoni Kobo as an employment support business for the elderly in April of the same year. In 2023, Mr. Nakayama assumed the position of Branch Manager of the Nara Prefecture Branch of the Japan Federation of Kaigo Business Providers.
---
Illuminating the future of nursing care in Japan based on his experience of seeing Japan from the outside.
ーPlease tell us what prompted you to get involved in the nursing care industry.
In 2000, Japan's Long-Term Care Insurance System was put in effect. My father, who was running an acupuncture and moxibustion clinic, opened a senior day care center that year, which is the start of RIRE STAGE. Back then, I was engaged in overseas business and marketing at Idemitsu Kosan. After that I was involved in business planning at a foreign-affiliated company in the petrochemical industry, so I hardly thought about returning to my hometown. On the other hand, I felt that there were significant issues in workplaces of the nursing care industry in which my father operated a senior day care center, because the industry's staff turnover rates were high in spite of the fact that lifelong employment was still a factor at that time. This gave me a strong sense of urgency that "we must not leave our country's issues to our children and grandchildren as it is." In addition, my desire to "make nursing care services a social infrastructure that everyone can use without any concern" grew stronger. So, I decided to go back to my hometown in Nara to help my father's business.
ーWhat did you start first?
First of all, I focused on pursuing customer and employee satisfaction and instilling the philosophy necessary to achieve that across the organization by incorporating them in the business operation. This is the core concept that I had learned at Idemitsu Kosan for more than 15 years, and I strongly believed that by adopting this policy in our company, we would increase the value we provide to our customers and the industry as well as improve turnover rates. I also thought that a new system was necessary from the perspective of ensuring continuous use of nursing care services and economic efficiency in addition to user satisfactions. Many of our users are having a hard time making ends meet. While having said that elderly people spend 10 years of their lives in nursing care, I struggled with how to help our users find "a reason to live" and to achieve "economic efficiency" at the same time. That's when I came up with the idea of "Aoni Kobo," a work facility for senior citizens.
Solving Japan's issues of "productivity" will help change the future.
ーPlease share us in detail your initial thoughts behind the establishment of Aoni Kobo.
My theme back then was "increasing productivity in Japan." When we were discussing "what kind of world view we want to create" in a managers development project, I thought about creating a world that would empower active seniors aged 65 to 80, who number about 40 million in Japan. I first focused on helping the users receiving care services find "a reason to live," "something worth doing," and "rewarding work." I started with "kimono hodoki" (taking apart a kimono), which is part of Japanese culture, as one of the services I can offer as a nursing care facility manager, in addition to the simple purpose of providing employment opportunities to users.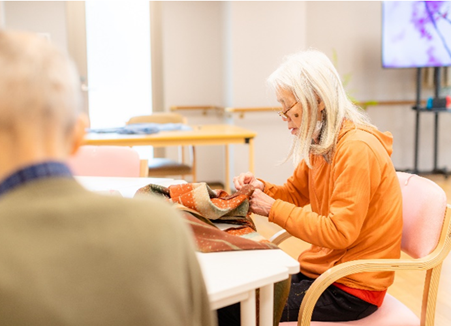 ーWhat kind of changes have you seen in the users of Aoni Kobo?
Immediately after starting Aoni Kobo, changes occurred in both users and our staff. Some of our users have strong symptoms of dementia, but they are now able to remember at least the names of the staffers who bring them the work of Aoni Kobo. In addition, there was a change that users who had refused nursing care services gradually accepted it. Furthermore, we have seen an encouraging progress in users. Those who were unable to move their hands the way they wanted became able to perform manual tasks little by little. What impressed me even more was that some people bought presents for the staff with money they earned at Aoni Kobo. Due to poor profitability, we temporarily downsized Aoni Kobo, but I decided to keep the facility because the staffers on the ground had a strong desire to continue this facility and I realized the beneficial physical effects and psychological changes brought by the facility to the users, which motivated the staff. I have a dream of taking Aoni Kobo to the next level by further improving the degree of perfection and turning the facility into a brand.
What Nursing Facilities Can Do in an Ever-Changing Society.
ーWhat kind of future does President Nakayama envision for the nursing care industry? Please tell us what it will take to achieve such a future.
In the medical and welfare industry, functions such as childcare, education, and nursing care are vertically divided. Even just in the nursing care industry, you may find an environment where each business tends to operate alone, making it difficult to incorporate the skills and expertise of other occupations. On the other hand, given the trends in society such as an empathetic society, by making good use of advertising, marketing, and other professional fields, we may be able to spread all at once in the world an awareness of the value of facilities like Aoni Kobo that engage in precise and careful "monozukuri (manufacturing)." There are still many challenges in terms of how to increase the productivity of the elderly, but I personally feel that their growth potential is high.
ーYou are saying that cooperation beyond boundaries is important.
In that sense, it is also essential to create a society that supports individuals in the community beyond the boundaries of nursing homes. It means returning to Japan's origin, which is a village society, called "Mura-Shyakai." My mission is to develop nursing care facilities as part of a community that transcends the family, "where people can learn about culture, spend time with their children, and interact with local people."
ーBy the way, I hear that nursing care sites are understaffed and the burden on the staff is significant. How are you coping with this issue?
In the future, the population of Japan will continue to decrease, so it is essential to improve productivity at the workplace. The key is how quickly and skillfully we can incorporate ICT (Information and Communications Technology). Since I joined this industry, I believe that I have a role to play in leading the welfare industry by incorporating new ICT while accepting the hallmarks of analog technology.
The nursing care industry will evolve by understanding the current situation with the power of digital technology.
ーPlease share the examples of utilizing ICT in the elderly care field and the future prospects of the industry.
We are incorporating digital tools for the purpose of understanding the current situation so that we can perform our operations more appropriately as well as improve work efficiency. For example, the recording function called V-cam, which is used in the nurse call system to prevent problems, can extract data on who is calling and how often during the night. We used to intuitively assign people to night shifts, but this function allows us to assign a proper number of people based on the situation. Some people may hesitate to change the status quo, such as using new tools, but we have to move ahead and evolve, not regress. I believe that the sustainability of nursing care services is one of the most important issues for the future of Japan, which is becoming a super-aging society. I will continue to proactively utilize ICT and create new forms of nursing care in order to improve working styles at nursing care sites.