TRYT Career launches TRYT Worker, a new comprehensive service site for job seekers
2022.12.22
PR
TRYT Career Inc. (denoted hereinafter as TRYT Career, Head Office: Osaka City, Osaka Prefecture, Tokyo Head Office: Shinagawa-ku, Tokyo, CEO: Hidetaka Sasai), a leading a provider of placement and temporary staffing services in the medical, welfare, and childcare industries, has launched TRYT Worker (URL: https://tryt-worker.jp/), a new comprehensive service site for job seekers.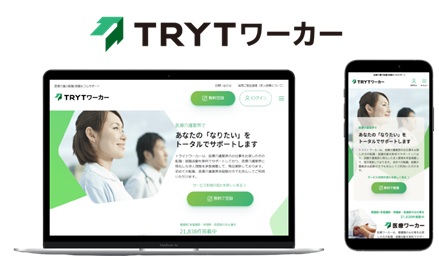 TRYT Career has been operating job search/placement service sites specializing in various occupations in the medical and welfare fields since the launch of Medical Worker, a job search/placement service site for nurses, in 2006. Nine service sites*1 operated by TRYT Career had over 1 million registered users in total in 2021, and we are helping medical and welfare professionals to change jobs or find a new job.
The new comprehensive service site TRYT Worker has a My Page feature that allows job seekers to register their desired employment conditions and other information. This allows job seekers to receive job information that better reflects their desired employment conditions. In addition, we offer a direct recruiting service that enables job seekers to apply directly to companies that are hiring, and we provide support to job seekers in accordance with their increasingly varied job searches.
We provide nationwide support to job seekers by career advisors who specialize in the medical and welfare fields and who are well versed in regional characteristics, and we also provide services through multifaceted channels that combine the real and digital worlds. Useful information on different types of jobs for job seekers is now provided by service websites or via our official LINE account. With the launch of the new comprehensive service site TRYT Worker, we will further focus on developing services that meet the diverse needs of job seekers.
*1 The service sites are shown below, and they do not include service sites operated by the former company Welks Co., Ltd., which merged with TRYT Inc. in 2022. Nursing Care Worker, Nursing Care Worker x Temp, Medical Worker, Childcare Worker, Childcare Worker x Temp, Doctor Worker, PTOTST Worker, Dental Worker, and Nutritionist Worker