TRYT Career and Rehab, a nursing care and rehabilitation technology company, form a business alliance:Nationwide launch of the rehabilitation management software "Rehaplan"
2023.01.18
PR
TRYT Career Inc. (Head Office: Osaka City, Osaka Prefecture, Tokyo Head Office: Shinagawa-ku, Tokyo, CEO: Hidetaka Sasai, hereinafter as TRYT Career), a leading provider of placement and temporary staffing services in the medical, welfare, and childcare industries, has entered into a business alliance with Rehab for Japan Co., Ltd. (Head Office: Chiyoda-ku, Tokyo, CEO: Ryo Okubo, hereinafter as Rehab). Rehab has developed rehabilitation management software for day services named "Rehaplan" (https://rehaplan.jp/training/). TRYT Career has begun highlighting Rehaplan's features nationwide via the TRYT Group's network in January 2023*1.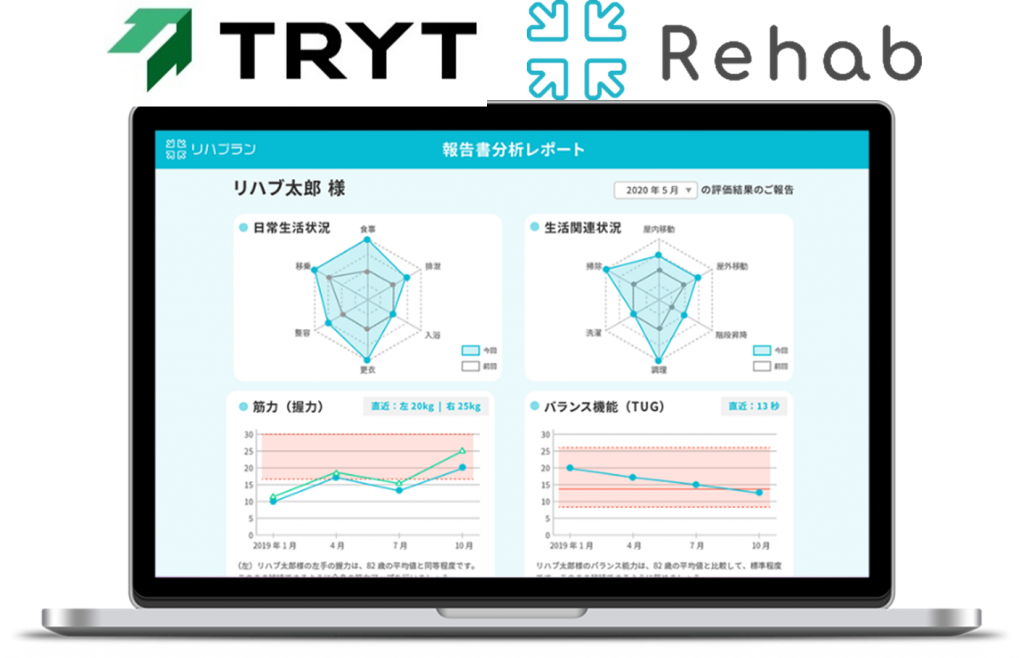 ◆Background of the alliance
Currently, there are about 44,000 nursing care facilities nationwide, serving 2 million people who require such care. As approximately 90% of these facilities do not have rehabilitation specialists on staff, nurses provide rehabilitation services while also performing their nursing duties. These services involve tasks such as formulating various plans, keeping daily records, and conducting physical assessments once services are provided in order to obtain reimbursement from the government. The substantial workload and level of difficulty of these tasks have become an issue. TRYT Career has a nationwide network in the medical and welfare fields, and the company should be able to resolve more problems in nursing care settings and to improve the routine functioning of clients by proposing Rehaplan.
*1 TRYT Inc., TRYT Career Inc., TRYT Engineering Inc., and HAB & Co., Inc.
◆Rehaplan
"Rehaplan" is rehabilitation management software for day services that enables anyone to conduct functional training easily, safely, and effectively. Since its launch in March 2018, Rehaplan has been helping to reduce the burden of administrative work on staff and helping nursing care facilities differentiate themselves and increase sales.
Advantages of introducing "Rehaplan"
・Automated generation of a rehabilitation program enables a service provider, even if he or she is not a rehabilitation specialist, to devise optimal goals and an optimal exercise program for each client.
・The time required to prepare a plan for reimbursement can be reduced by up to one-tenth of the original time required.
・A service provider can conduct a specific rehabilitation program from among Rehaplan's 2,200 exercise programs without having to worry about a specific program involving certain forms of rehabilitation.
・As of June 2022, Rehaplan is compatible with calculation of reimbursement via the "LIFE" (Long-term care Information system for Evidence) system to collect and analyze scientific information on care.
◆Rehab for Japan Co., Ltd.
・Business operations: Planning, development, operation, and sales of "Rehaplan"
-Corporate website: https://rehabforjapan.com/
-"Rehaplan": https://rehaplan.jp/training/ (Available only in Japanese)