TRYT announces acquisition of shares in BRIGHTVIE Co., Ltd., a provider of ICT services in the healthcare sector—Aiming to reduce the workload of elderly care workers and improve their retention rate through the use of ICT—
2023.05.01
PR
TRYT Inc. (Head office: Osaka-City, Osaka Prefecture, Tokyo Head Office: Shinagawa-ku, Tokyo; CEO: Hidetaka Sasai; hereinafter called TRYT), a leading provider of placement and temporary staffing services in the healthcare industry, has announced that it has entered into a share transfer agreement with the major shareholders of BRIGHTVIE Co., Ltd. (Head office: Nagoya-City, Aichi Prefecture, CEO: Tomokazu Iida; hereinafter called BRIGHTVIE), a provider of elderly care/medical data utilization platform services and communication tools specialized for the elderly care business, regarding the acquisition of BRIGHTVIE as a subsidiary of TRYT. The share acquisition is scheduled to be completed around the end of May 2023.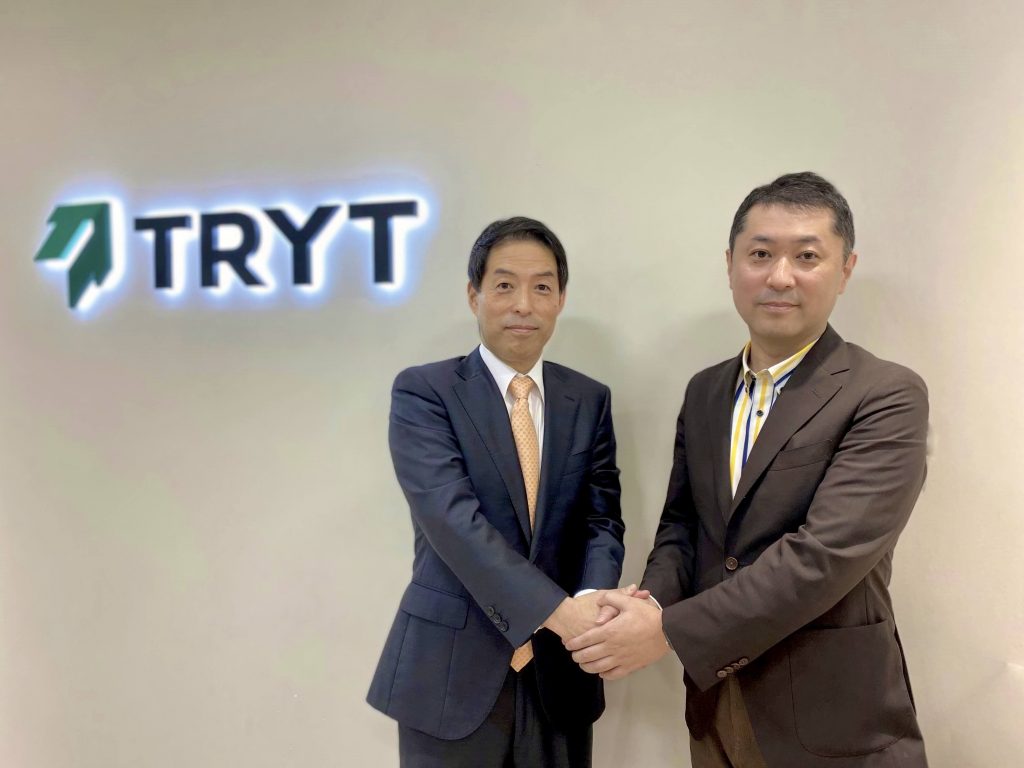 [Left: Hidetaka Sasai, CEO of TRYT Right: Tomokazu Iida, CEO of BRIGHTVIE]
The TRYT group's mission is to realize a society in which people can live happily by solving social issues faced by the healthcare industry. In our group's "Medium-Term Management Plan for FY2023-2025 (hereinafter "TRYT2025")," announced in April 2023, we stated that we will promote operational efficiency improvement through the use of ICT. The acquisition of BRIGHTVIE shares is part of this plan.
BRIGHTVIE was established in 2014 to develop and support systems for elderly care and medical care with the aim of "creating a working environment where care workers want to continue working." The company provides "Care Data Connect (called CDC)," a data integration platform that supports the acquisition, linkage, analysis, and use of device data in elderly care and medical care, and "Carez Connect (called Carez)," a portal system specialized for the elderly care business.
"Care Data Connect" enables centralized management of data on vitals, sleep status, excretion, nurse calls, temperature, humidity and others, through monitoring sensors, vital sign monitors and other devices provided by major health care device manufacturers in Japan, thereby reducing the workload of care workers in monitoring patients. In addition to having a back-office system centered on attendance management, "Carez Connect" also integrates various mechanisms to enhance the psychological safety of care workers as well as elements necessary for their retention.
The acquisition of BRIGHTVIE will allow us to combine BRIGHTVIE's ICT services in the healthcare field with our robust sales structure, huge database of registered candidates, and extensive network of institutional clients that we have cultivated through our placement and hiring support business, and thereby we will be able to contribute to solving social issues faced by the healthcare industry, such as labor shortages and productivity improvements.
In addition to our strong existing human resource solution business, the TRYT group will focus its efforts on the ICT-based improvement support business, pursuing operational efficiency, which is a new business field for the TRYT group.

■ Comments from Hidetaka Sasai, CEO, TRYT Inc.
We decided to promote our businesses through business integration based on our shared social mission of improving operational efficiency in the elderly care industry. We aim to grow our new business faster and larger by combining the assets of the TRYT group and BRIGHTVIE's competitive advantages, such as technological capabilities, ability to interact with elderly care facilities, and above all, employees' passion for the corporate mission.
■ Comments from Tomokazu Iida, CEO, BRIGHTVIE Co., Ltd.
BRIGHTVIE has engaged in repeated dialogues with elderly care facilities and has provided services tailored to their needs, with the aim of supporting the creation of a working environment through ICT where care workers want to continue working. By joining the TRYT group, we will listen to the requests of many elderly care facilities that we could not reach by our own efforts alone and will accelerate the development of services to realize more worker-friendly elderly care facilities utilizing ICT.
[Overview of BRIGHTVIE Co., Ltd.]
Company Name : BRIGHTVIE Co., Ltd.
Established : February 2014
Head Office : 2-9 Kitayama-cho, Showa-ku, Nagoya city, Aichi, Japan
Representative : Tomokazu Iida,
Businesses : Development and support of systems for elderly and medical care, creation of websites for elderly care facilities,
development and support of various custom-made systems
Website : https://brightvie.me/
[Overview of TRYT Inc.]
Company Name : TRYT Inc.
Established : November 2004
Head Office : Seiwa Umeda Building13F, 2-12-7 Sonezaki, Kita-ku, Osaka, Japan
Tokyo Head Office : Art Village Osaki Central Tower 17F, 1-2-2 Osaki, Shinagawa-ku, Tokyo, Japan
Representative : Hidetaka Sasai
Businesses : Development of various environments and provision of support, management planning and administration,
and other related operations aimed to strengthen the competitiveness of group companies engaged in placement
and temporary staffing service businesses
Website : https://tryt-group.co.jp/
TRYT announces acquisition of shares in BRIGHTVIE Co., Ltd. a provider of ICT services in the healthcare sector [PDF]