TRYT Announces Acquisition of Oita's HR Tech Startup HAB&Co., Inc.
2021.07.21
PR
Acceleration of GovTech and Digital Transformation in Japan's Local Regions
~Launch of new services utilizing SHIRAHA, the industry's first instant job site creation platform~
---
Osaka-shi, Osaka – July 21, 2021 – TRYT Inc. (an entity that controls TRYT Group), a leader in healthcare recruiting and staffing, announced that it had acquired HAB&Co., Inc., an HR/GovTech startup in Oita, Japan. The purchase will accelerate TRYT's direct recruiting business and regional expansion in Japan.
The acquisition of an HR/GovTech tech company fits into TRYT's direct recruiting and regional expansion strategy. HAB&Co. has been building the GovTech*1 model in collaboration with Oita prefecture's local government agencies, public employment agencies, and the regional financial institutions . By utilizing the GovTech model along with HAB&Co.'s SHIRAHA service, TRYT will accelerate its direct recruiting platform and expand its presence into local regions of Japan.
HAB&Co. will continue to focus on the development of HR tech products, while expanding its services nationwide by leveraging TRYT's network of 43 regional offices.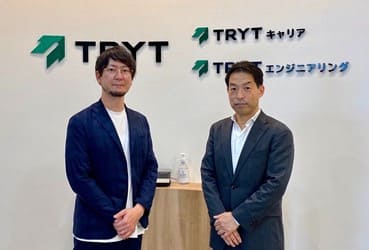 【Left: HAB&Co. President and CEO Yuta Mori, Right: TRYT Group President and CEO Hidetaka Sasai】
【Future Initiatives】
HAB&Co. is an HR/GovTech company based in Oita prefecture located in Kyushu, Japan. Since its founding in 2017, the company has been providing solutions to SMEs through a suite of SaaS product offerings. In August 2019, the company launched SHIRAHA (https://shiraha.jp/), an AI-based no-code job site creation platform that allows users to easily create recruitment websites in as little as under 5 minutes. The platform can also manage the status of job applicants. On average, the service has led to a 90% reduction in time and several million yen in cost associated with job site creation. As of June 2021, over 500 companies have adopted this service since its launch.
The labor shortage in the healthcare sector is expected to increase due to the aging population in Japan. TRYT will continue to provide the necessary tools and education to healthcare workers through its network of over 43 regional offices. HAB&Co. will bolster TRYT's effort to tackle the labor shortage problem by offering digital solutions to healthcare providers. TRYT will incorporate the GovTech model into its regional expansion strategy, working with the local government agencies to deliver healthcare workers and services to different regions of Japan that are facing a shortage of healthcare services. TRYT will also create a direct recruiting platform that connects healthcare providers and healthcare workers.
■Comments from Hidetaka Sasai, President and CEO of TRYT Inc.
"HAB&Co. and TRYT share the same mission of solving the chronic labor shortage problem in Japan. What is unique about HAB&Co. is that the company approaches business problems with ideas and solutions that are unique to the regional areas of Japan. This unique view, along with HAB&Co.'s strength as a leading startup in the GovTech space will complement TRYT's expertise in the HR services. By forming this partnership, we are in a much better position to achieving our shared mission."
■Comments from Yuta Mori, CEO of HAB&Co., Inc.
"Since the founding of the company, we have been focusing on the HR tech and GovTech space. Our main product, SHIRAHA has been used by many SMEs, especially in the industries that suffer from high labor shortages, such as healthcare and construction. Having parents who have worked in these industries, I understand the pains and issues faced by the people that are employed in those industries. By partnering with TRYT, we hope to become part of a solution to these problems. And by leveraging our knowledge in AI and SaaS, we hope to increase value for our existing customers, develop new products, and approach new markets. Together with TRYT, we will make a full commitment to achieving our vision."
■Comments from Takeshi Nakahara, Managing Partner and COO of GXPartners
"We have been a lead investor of the company since 2019, and have witnessed the tremendous growth experienced by HAB&Co. I met Mori-san when he was still at his previous job. My first impression of him was a strong sense of responsibility. Over the years, he had formed a strong team together with Takayama-san and Harayama-san. I think TRYT was attracted to Mori-san and the HAB&Co. team just as much as they were attracted to HAB&Co.'s SHIRAHA service. From now on, HAB&Co. will take on new challenges, and I wish Mori-san and the HAB&Co. team the best of luck on their new journey."

*1 GovTech: Compounded by the words Government and Technology, refers to the effort made to digitize public administration through innovational technological solutions. Government agencies and companies work together to improve the quality of public services.
【TRYT Group】
TRYT Group, formed by TRYT Inc., TRYT Career Inc., and TRYT Engineering Inc., has achieved 17 consecutive years of revenue and profit growth since its founding in 2004. TRYT's mission is to solve the chronic labor shortage problem in the healthcare industry through its primary recruiting and staffing business.

Headquarters: Seiwa Umeda Building 13th Floor, 2-12-17 Sonezaki, Kita-ku, Osaka City, Osaka, Japan
Main Office: Itoshia Office Tower 16th Floor, 2-7-1 Yurakucho, Chiyoda-ku, Tokyo, Japan
President and CEO: Hidetaka Sasai
Number of Employees: 2,789 (Exclude Temporary Hire) ※As of December 2020
【Group Company Overview】
Name: TRYT Inc.
Line of business: Manages TRYT Group companies
https://tryt-group.co.jp/
Name: TRYT Career Inc.
Line of business: Professional recruiting and temporary staffing agency for essential workers in health care and childcare.
https://tryt-career.co.jp/
Name: TRYT Engineering Inc.
Line of business: Professional recruiting and temporary staffing agency for construction engineering workers.
https://tryt-eng.co.jp/
【HAB&Co., Inc. Company Overview】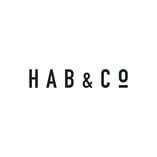 The company specializes in product development, coworking space management, and IT-related client work. It has collaborated with local government agencies in solving various business problems. The company has worked on developing large-scale recruitment portal sites and supporting the domestic expansion of overseas apparel brands.
Headquarters:
[Fukuoka Office] Fukuoka Growth Next, 2-6-11 Daimyo, Chuo-ku, Fukuoka City, Fukuoka, Japan
[Oita Headquarters] DB Building 2F, 2-1-8 Kanaikemachi, Oita City, Oita, Japan
CEO: Yuta Mori
Establishment: August 15, 2017
Capital: 67,875,000 JPY (Including Capital Reserve)
Line of business: Product development, IT related client work, coworking space management, paid recruiting service
Number of Employees: 15
URL:https://hab-co.jp
Product Lineup:
SHIRAHA https://shiraha.jp
SHIRAHAWORK https://shiraha.work
Konzatsu Navi https://konnavi.jp/
Who'z https://whoz.jp/
dot. https://dot247.jp