Kagawa Prefecture, Takamastu City, and TRYT sign site agreement for the opening of "ICT BPO Center" in Takamatsu City to support operational efficiency at elderly care facilities
2023.09.20
PR
-Creating healthcare tech personnel through reskilling-
Kagawa Prefecture (governor: Toyohito Ikeda), Takamatsu City (mayor: Hideto Onishi), and TRYT Inc. (Tokyo Head Office: Shinagawa-ku, Tokyo; CEO: Hidetaka Sasai; hereinafter, TRYT) hereby announce that they have signed a tripartite site agreement on September 20, 2023. Based on the agreement, TRYT will open the ICT BPO Center in Takamatsu City, Kagawa Prefecture on October 1, 2023, to support operational efficiency at elderly care facilities nationwide. TRYT will train specialized personnel with combined healthcare and ICT knowledge and create jobs that attract younger generations, thereby contributing to revitalizing local communities. This is the first time for TRYT to establish a BPO center.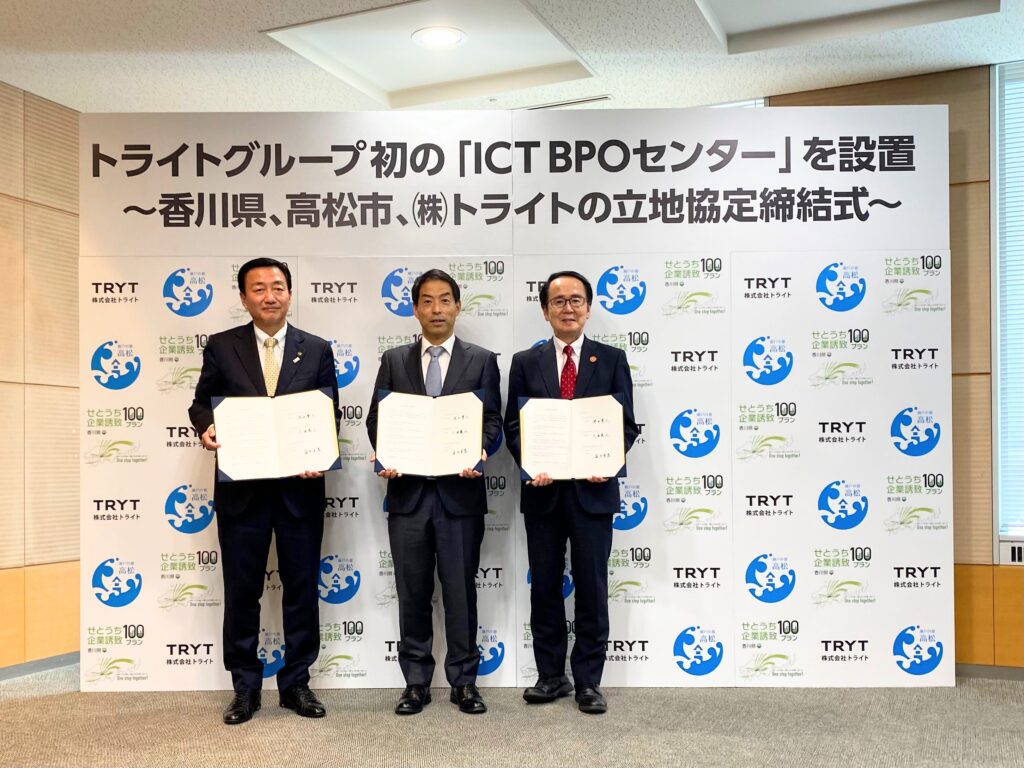 Kagawa Prefecture has been strategically promoting investment in the prefecture by formulating the "Setouchi Investment Promotion 100 Plan," an action plan compiling measures to attract investment for the next five to ten years, to further promote investment by attractive companies in the prefecture and lead to the creation of new jobs and development of the local economy. 
Takamatsu City has been proactively promoting investment in the city to develop the local economy, upgrade and vitalize industries, and expand employment opportunities. To focus on attracting ICT-related companies, which appeal to younger generations, the city has been working to realize "Smart City Takamatsu," a sustainable city that can solve various local issues, by utilizing ICT and data and collaborating with various players from industry, academia, and government.
The TRYT Group, a leading placement company for the medical and welfare industries and a provider of digital solutions for the medical and welfare industries , opened an office providing placement and temporary staffing services in Takamatsu City in 2017 to support employment in Kagawa Prefecture.
Since last year, the Group has been providing assistance in the implementation of elderly care software (ICT) that supports operational efficiency at elderly care facilities nationwide. Having deemed that we can contribute to revitalizing local communities through human resources by training IT personnel well versed in healthcare and creating new jobs by coordinating this initiative with the efforts promoted by Kagawa Prefecture and Takamatsu City, we have decided to open TRYT's first ICT BPO Center in Takamatsu City. At the ICT BPO Center, we will work to solve social issues caused by the labor shortage facing the elderly care industry by providing operating instructions for elderly care software online to caregivers nationwide to ensure smooth introduction and operation of elderly care software that will alleviate the work load and improve productivity at elderly care facilities.
* BPO stands for Business Process Outsourcing and refers to the outsourcing of a portion of a business process to a specialized operator.
■ Outline of the ICT BPO Center
・Address: 6F Takamatsu Square Building, 8-1 Furujinmachi, Takamatsu, Kagawa
・Business content: Elderly care software implementation support such as operating instructions
・Opening date: October 1, 2023
・Operation: TRYT Career Inc. (wholly-owned subsidiary of TRYT Inc.)
・Initial number of employees: Approx. 20 (planned)
<Reference>
Kagawa Prefecture website
https://www.pref.kagawa.lg.jp/kigyoritti/kigyoritti/topics/2023shitei8.html
Takamatsu City website 
https://www.city.takamatsu.kagawa.jp/jigyosha/sangyou/yuchi/rittikyoutei.html
[About TRYT Inc.]
TRYT Inc. aims to create comfortable working environments for medical and welfare workers by providing human resource services and digital solutions for its purpose: "We create a future where everyone has a fulfilling life by solving the issues faced by essential industries with a focus on the medical and welfare industry." In its main business field of placement and temporary staffing services, TRYT is a leading placement company in the healthcare and welfare industries. Career advisors stationed at TRYT branches in 28 prefectures around Japan offer consulting services. TRYT will accelerate its efforts to enhance direct recruiting services and explore new ICT-related businesses, thereby contributing to realizing a sustainable society.
<Inquiries about the ICT BPO Center>
ICT BPO Center, TRYT Career Inc.
ict_support@tryt-group.co.jp
<Inquiries from the press>
Public Relations, External Affairs and Sustainability Department, TRYT Group
Tel.: +81-3-5436-7345   Email: info@tryt-group.co.jp